RECOMMENDATIONS: ANATOMY BOOKS
Are you thinking about studying Veterinary Physiotherapy? Or are you just about to start on your Vet Physio Journey? Then today this post is for you. I am going to share with you the anatomy books which I found most useful throughout my studies in both Veterinary Nursing and Veterinary Physiotherapy.
I would not expect these books to appear on your essential reading lists but if you have been accepted for a place at university to study Vet Physio these are a good starting point to help you swat up before you start.
Introduction to Veterinary Anatomy and Physiology
The first book to share with you is Introduction to Veterinary Anatomy and Physiology by Victoria Aspinall and Melanie O'Reilly. This may not seam like a first choice but this book was my bible when I was studying Veterinary Nursing. It has just the right amount of information which is not overly complicated for someone who is new to the subject. A great point about this book is that it also covers physiology. This means that not only are the main muscles shown but it will also discuss how a muscle contracts (very important for studying VP). Not sure about the difference between anatomy and physiology check out our glossary.
Another positive is the clear diagrams and pictures within the book which help you to understand the text. I think the only downside is that it does not cover enough of the muscles for the VP but it makes a great starting point to your studies. This book is also perfect for anyone wishing to study Vet Nursing.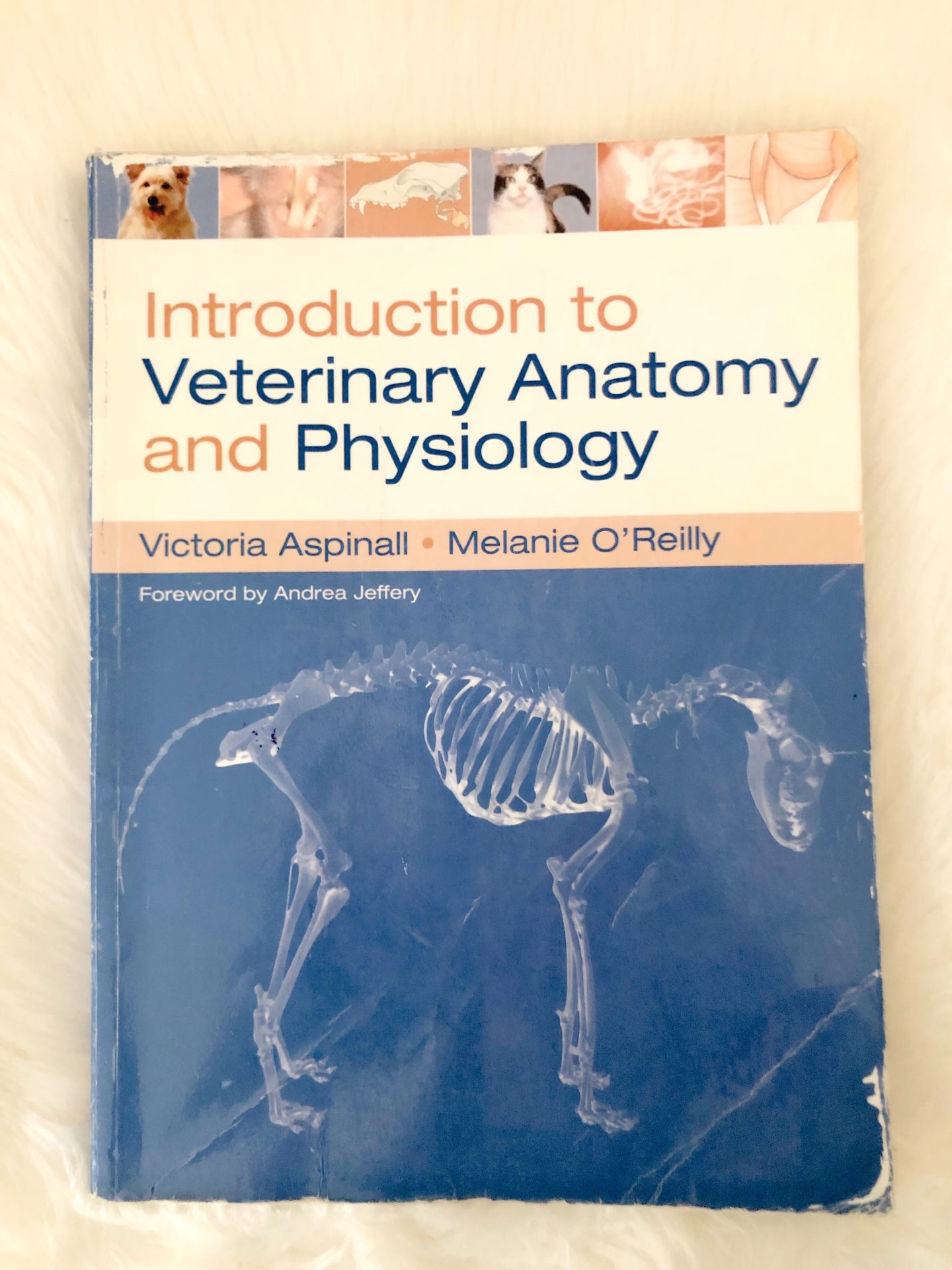 As you can see from the pictures my copy has been well loved and if you are looking to buy a new copy the cover will look different as this is the first edition. You can get a copy of the 4th Edition from Amazon for £35.
The Dog Anatomy Workbook
The next book I found useful was The Dog Anatomy Workbook: A Guide to the Canine Body by Andrew Gardiner and Maggie Raynor. This book takes you step by step through the canine body. What I love most about this book is that you can colour in the diagrams and add notes as you go along. I would say that this is a must have for all students which are studying veterinary anatomy and is a great introduction to the subject.
There is also a horse anatomy workbook which is very similar but I did not find it as useful. Personally I felt that it needed updating to be as good as The Dog Anatomy Workbook.
This book is available from Amazon between £20 and £25. So what are you waiting for.
Dog Anatomy
Dog Anatomy: a pictorial approach to canine structure by Peter C. Goody makes an excellent partner to the book above. This book has lovely clean pictures with areas located by numbers and then the key to those numbers on the opposite page. What I found most useful was to keep this book with you when palpating dogs so you could then easily locate what you where feeling.
There is also a horse equivalent which is just as good. Unfortunately using in stables did not bode well for my horse copy. Fortunatley at only 14.99 from Amazon these books are easily replaceable. This also makes them student budget friendly!
A Guide to the Dissection of the Dog
Ignoring its rather grim title A guide to the Dissection of the Dog by Howard E. Evans and Alexander de Lahunta is an excellent book for any budding Vet Physio or Vet Surgeon. Essentially this book is a step by step guide to canine dissection but it is full of essential information. What I like most are the diagrams. This book is full of bone, muscle and nerve diagrams showing various different cut through that are not in other books. There are also excellent diagrams showing where muscles originate and insert in detail onto the bones. I think this is an excellent resource for any student to use. I first started to use this textbook when an Introduction to Veterinary Anatomy and Physiology was no enough.
At £54 on Amazon this is a slightly more pricey but you can pick up older editions for a lot less.
So these are the main anatomy books (including the horse equivalents of Dog Anatomy and the Dog Anatomy Workbook) which helped me through my Vet nursing and Vet Physio degrees. Happy reading everyone.