Organising your literature review
I know I have been rather quiet on the blog over the past few weeks. You probably think I have no excuse because with the current situation of staying at home I should have plenty of time to write however it has also been a great opportunity for me to kick start writing on my Masters.
When I enrolled on the course in September I had a rather large freak out about how much work is involved even over 2 years (at least 12 hours a week) *waves goodbye to weekends*. I will be honest and I am a typical student who likes to leave everything to the last minute and as the deadline seams so far off more short term deadlines for work tend to get priority. So in some ways the Coronavirus lockdown has come as a blessing and means that I can get started on looking at some of the research papers I have found.
Learning New Skills
When I sat down in the classroom on a perfect September day in 2019 looking longingly out the window at the last few days of warm Sunshine before winter, the panic of the enormous task looming ahead starting to creep in. I did not realise that after 6 years of University study I would be learning new skills in finding and organising literature.
Now I have started using these skills in my Masters research I thought "why was I not taught this sooner?" Knowing what I do now would have helped organise my thoughts and ideas on the literature I had found for all of my past assignments. So today I am going to show you how I have been organising my literature in preparation for writing my literature review in the hope that this will help you when preparing to write assessments.
Creating a Literature Matrix
The newest idea which I found out about was using a literature matrix, they are easy to set up, and you can individualise it to your needs. Here is the full matrix which I am using for my literature review (as you can see it is very much a work in progress:
All you need to get started is a software program that allows you to use spreadsheets. I have chosen Apple's Numbers but Microsoft Excel or Google Sheets will work just as well.
Once you are on the program you can set up your table which you will add your headings, these can be in any order you find most useful for you. For my matrix I have chosen:
Author
Year
Title
Journal Title
Journal Volume and Pages
DOI
Date of Access
Key Words
Objective
Conclusion
What's Good?
What's Not So Good?
Quotes
Cross Reference
Questionnaire Ideas (this is personal to my study so you probably won't need to include this)
It's a good idea to set these titles as the header row. This will enable them to stay in place as I scroll through my work which means I don't have to waste time scrolling back up to find out the title.
How to use your Matrix
Now you have your matrix set up you can start to fill in the information.
In this close up you can see how I have been filling in each of the columns. The first few are pretty self-explanatory, you need the author's of the paper, the year it was published, the title of the paper and the journal it was published in including volume and page numbers.
The DOI is a digital object identifier and it provides me with a permeant link to the article I have viewed online at that time. This means I can click the link the paper will be available to read and is very handy for looking back at a later date. I have added the date of access which is the date in which I accessed the paper (I never used to keep a record of when I accessed the paper so would make up a date when I was writing my reference list).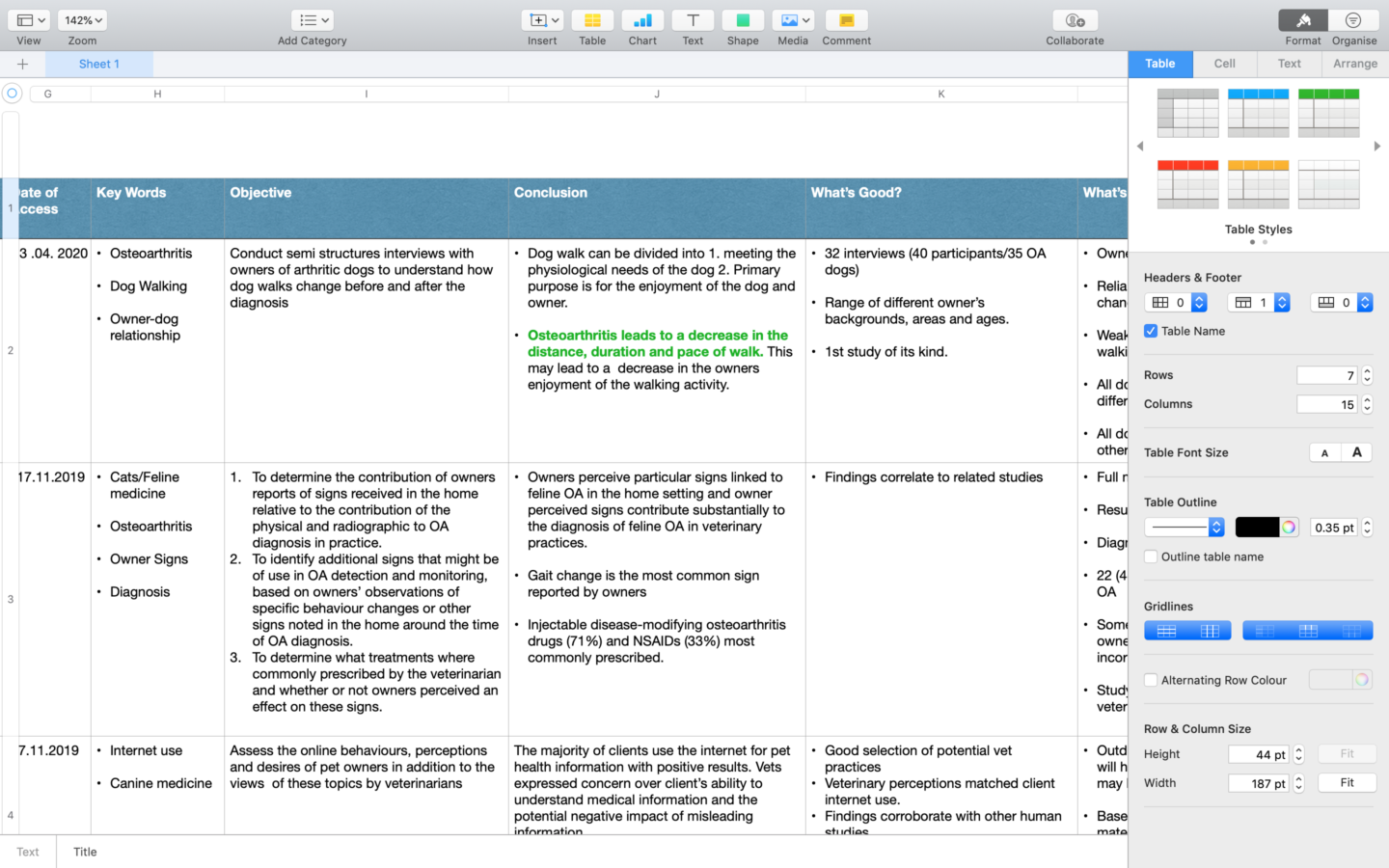 I have a column that contains the keywords related to this paper which will make searching for a paper a lot easier in the future. The objectives column is what the researcher's aim was i.e. what were they trying to find out through conducting this research and the conclusion column is what they found out. This way you can directly compare whether the researcher achieved their goal.
The next two columns are my thoughts on what was good about the study and what was not so good. These are vitally important as they will form the basis of your critique of the literature and will aid you in helping to write your assignment. I also have a column with quotes so that I can highlight any important points within the research which may be useful when I am writing my Lit Review later. The final column you may want to add is a cross-reference where you can add similar studies to compare against.
My final column is where I have found questions which the author has used in their research which may be useful to use in my questionnaire. You can add other columns that you may find useful for the assignment you are working on and make this fit your study style.
As you can see this is something which I wish I had known about much earlier as this would have helped to have improved my research before writing my assignments. When I look back at when I was conducting my research back in 2011 for my BSc and my room was piled high with papers highlighted and annotated this would have been a much easier way to organise my thoughts.
I hope this helps you in your studies and I will keep you updated on how I am progressing with my Masters. If you want any further help with study skills then leave me a comment below.