Who doesn't love Autumn, one of the most beautiful and magical seasons to be out in the parks or the countryside exploring. The days are warm but without the intense heat of summer and the nights getting chillier. The leaves are falling and the landscape is turning into magical colours of crimson and gold but there are a few hidden dangers you need to be aware of to ensure your pets stay safe throughout the autumnal season.
Acorns
Acorns are abundant in autumn. I can always remember them crunching underfoot walking to school at the start of a new school year. This year the oak trees in our village are particularly abundant with acorns (hopefully this does not mean we are in for a hard winter). However, acorns can pose a threat to our dogs. They contain a chemical called tannic acid which if eaten can cause liver and kidney damage. Symptoms of poisoning would include vomiting, diarrhoea (with or without blood), abdominal pain (tummy ache), not wanting to eat, and lethargy.
The other danger with eating acorns is that they may cause a blockage in the intestines or stomach. If you notice your dog eating acorns or see any of these symptoms get your dog to the vets ASAP. This is a very uncommon poising though and in my 10 years of life as a vet nurse working in country practices, I never came across a case. Just keep a close watch on puppies and dogs who like to explore the world with their mouths when out and about on walks.
Conkers
Another classic symbol of autumn, conkers are abundant at this time of the year. I remember foraging for the largest shiniest conker as a kid but these also present a hidden danger to our pets. If eaten conkers can cause vomiting, drooling, retching, vomiting, diarrhoea, and abdominal pain. If eaten dogs will normally vomit any conkers quickly but medication could be needed to stop the sickness.
Like acorns, the other risk with conkers is that they can become stuck in the stomach or intestines causing a blockage. The only way to remove this is with an operation to open their tummy. Fortunately, this is very uncommon but just make sure puppies and dogs who like to pick things up in their mouths are watched closely on walks around horse chestnut trees.
Mushrooms and Toadstools
Autumn is the time for mushrooms and toadstools to start sprouting and some inquisitive dogs might decide to explore with their mouths. Although some mushrooms are harmless others can be deadly and unless you are an expert forager keep your dogs away. Amanita phalloides (also known as death cap) is the most commonly seen mushroom poisoning in dogs and is extremely toxic. The most common sign of mushroom poisoning is vomiting and diarrhoea and generally the longer that it takes for these symptoms to occur the more poisonous the mushroom. The more deadly effects mushrooms can have on your body include liver damage and seizures so if your think your dog has eaten a mushroom call you're vets straight away.
Fallen Fruits
September is harvest time, but if fruits don't get picked soon they will fall to the ground. This fallen fruit has two dangers to dogs. Firstly rotting, mouldy food contains tremorgenic mycotoxins which if eaten can cause muscle tremors and seizures. The other risk is that fruit left to rot will start fermenting, not only can this give your dogs a tummy ache including vomiting and diarrhoea if eaten but the alcohol can continue to ferment inside their stomach and cause bloat.
Fallen Leaves
Who doesn't love jumping in a pile of autumn leaves, are dogs included. Just make sure that if they have been having fun jumping and running through the leaves you bath them when you return home. Leaves that are wet and rotting offer the perfect place for bacteria, fungus, and mould to grow. That is the way nature intended but this can leave toxins on your dog's coat which could be ingested later when they lick themselves causing gastrointestinal symptoms such as vomiting and diarrhoea.
Baking
As we prepare for Christmas many of us will start baking cakes, mincemeat, and puddings so they can mature before the big day. Hopefully, most people are aware that raisins and currents are poisonous to dogs but when you are busy in the kitchen just take care to make sure that these are not easily picked up by your dog.
One weekday in October we had a dog come down to the surgery which had eaten an entire bowl of Christmas cake mixture! The dried fruit was not the only danger, the alcohol in the mixture had started fermenting in the stomach and the dog was at risk of bloat. Fortunately, the owners brought the dog down in time preventing poisoning.
Halloween Treats
Kids love to go trick and treating, the more sweets they can get the better. Just make sure they don't share their goodies with their furry friends at home. Chocolate and xylitol (an artificial sweetener) are poisonous to animals so keep those sweets out of reach!
Chilly, Dark Days
As autumn draws in the nights and mornings are starting to get colder and darker. Dogs still need to go for a walk so if you only have the option to go out in the dark make sure you are both wearing florescent clothing to keep visible. There are lots of options available for dogs now; including glow in the dark collars helping you to see your pooch whether they are on or off the lead.
Make sure you keep warm, you can always take layers off if they are going to be running around but keeping their muscles warm before and after vigorous exercise prevents injuries. Elderly dogs will also feel the benefit of a nice warm coat to keep their joints warm.
There is also nothing nicer than lighting a few candles and cosying up in front of a fire on a crisp evening. Make sure that your dogs and cats are kept at a safe distance from the flames. No one wants any burns!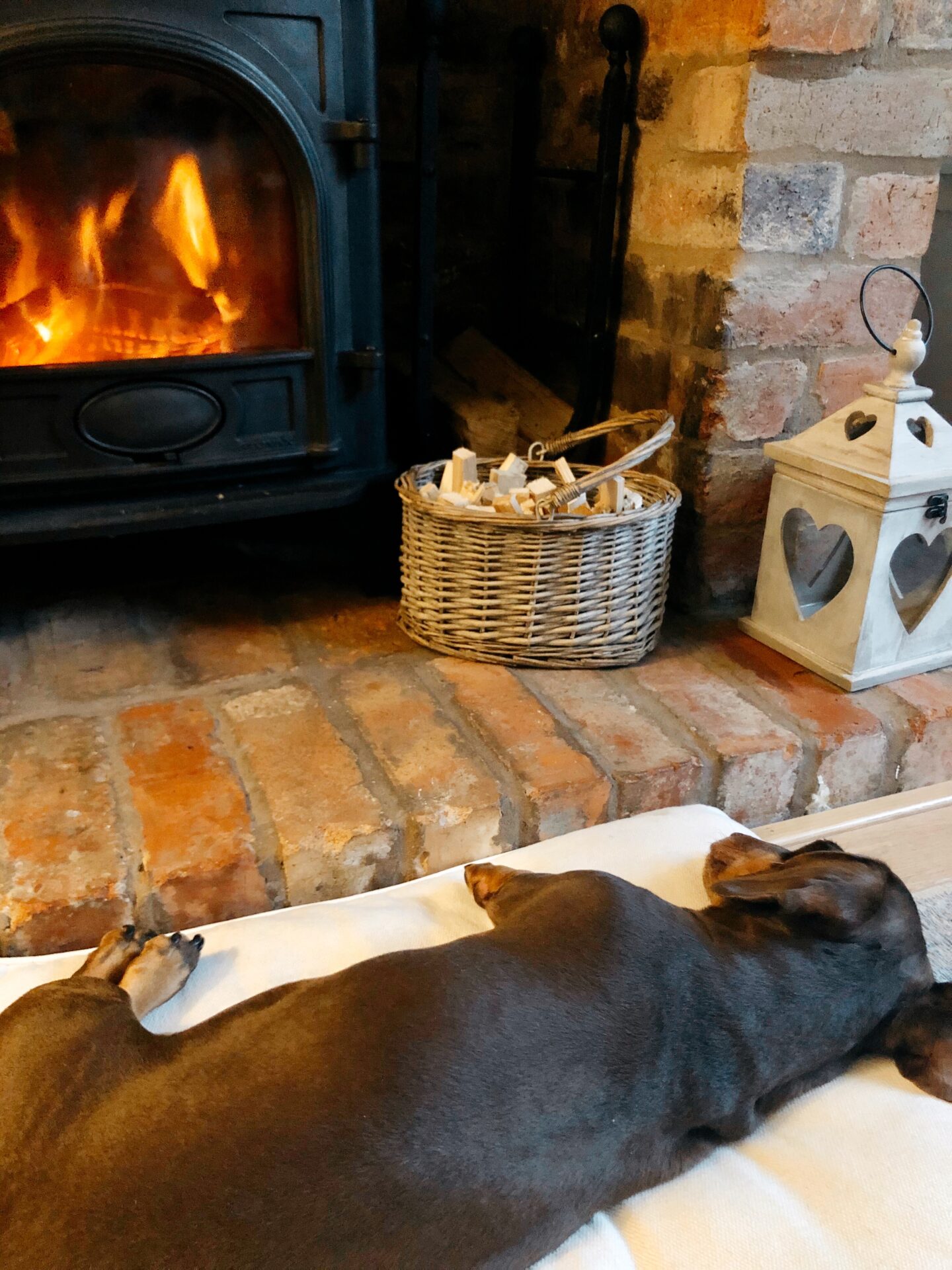 Seasonal Canine Illness
Seasonal Canine Illness or (SCI) mostly affects dogs between August and November. There is very little known about this disease but it mostly affects dogs shortly after walking in woodlands and can be fatal, fortunately, it is treatable if the signs are spotted early enough. If you have been out on a walk in the woodlands in the past 24-72 hours and notice your dog is vomiting lethargic or has diarrhoea then take them to the vets ASAP. Other symptoms can include abdominal pain, fever, and muscular tremors.
Alabama Rot
Alabama Rot or Cutaneous and Renal Glomerular Vasculopathy (CRGV) is a disease that damages the skin and kidneys in dogs. Most cases are seen when the weather is wet and muddy between October and March. The disease causes small blood clots to form in the blood vessels leading to blockages and damaging affected tissues.
Very little is known about the disease and it is extremely fatal! Some dogs have survived but only when signs have been picked up early. The most common sign is the appearance of skin lesions that look like a red patch of swollen skin or an ulcer. These often occur on the nose, lower limbs, and chest.
What we do know is that the disease is often picked up on wet, muddy walks and often from woodland areas. Make sure you wash your dog after muddy walks and if you spot any strange skin lesions on your dog or they become lethargic make sure you see a vet ASAP.
Find out more about Alabama Rot, including a map of where dogs have been affected on the Vets4Pets website.
Keep your pets safe this autumn but also enjoy the change of season and make the most of the beautiful golden scenery whilst it lasts.
Enjoy Autumn Everyone.